Are you an early-stage healthcare solutions company in Atlantic Canada looking to raise capital from impact investors?
Here's an opportunity to do just that and more, through the Atlantic Canada Healthcare Solutions Scale-up and Impact Investment Challenge.
The Challenge provides a chance to earn a $100,000 investment to further develop your Healthcare Solutions company.
The Nova Scotia Health Innovation Hub, a catalyst for health innovation, Imaginal Ventures, a business advisory and training company who supports businesses who are changing the world, and Spring Activator, a global incubator, accelerator and advisory firm are partnering to support the building of a thriving Health Solutions ecosystem in Atlantic Canada.
The inaugural Atlantic Canada Healthcare Solutions Scale-up and Impact Investment Challenge starts virtually in Sept 2023 and runs until March 2024.
Imaginal's proven and innovative Scale-up program – Sept. 12th – Nov. 28th, 2023
Spring Activator's Investment Readiness Program – Dec 7th, 2023 - Jan 25th, 2024
Spring Activator's Impact Investor Challenge – Jan 30th - March 19th, 2024
The Challenge will recruit 12 healthcare solutions entrepreneurs within Atlantic Canada, and at least 20 investors from the Atlantic Provinces and across Canada, including the Canadian physician angel network, Halo Health.
An INFORMATION SESSION is scheduled for May 24th @ 1:00pm ATL.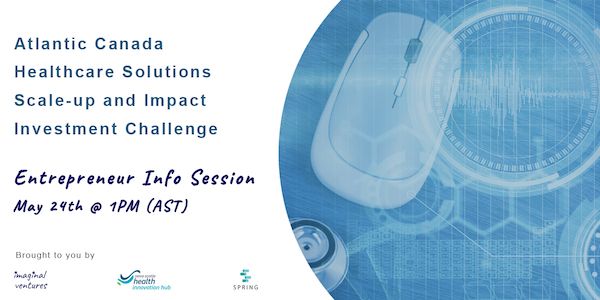 Register for the Info Session on May 24th here:
What you can expect from the Scale Up and Investment Challenge.
Over an exciting 7-month period, three distinct programs will provide participants with the knowledge, skills, and capabilities required to grow and sustain your business.
The Imaginal Scale-Up Program is a modern and innovative virtual 12-session program that allows founders and leaders to chart their own paths to personal and professional success while navigating the common roadblocks that prevent companies from scaling up in the right way. The program provides founders with the resources, training, tools, and networking opportunities needed to focus on growing their businesses. The program supports leaders to design, develop and then implement strategies that will create sustainable growth, uses evidence-based techniques that teach conscious decision-making, and builds a solid foundation to accelerate growth and impact. The proprietary tools, including the Imaginal Platform, encourages founders to rethink the relationship between purpose and profit and make a conscious choice to build a viable and sustainable business model that works for their business and their community.
Spring Activator's Investor Challenge The Investment Readiness training for purpose driven ventures is designed to prepare founders for interfacing with investors. The online learning platform includes exercises, peer discussions, and one-to-one support. The series will consist of six (6) interactive workshops that are 90 minutes to two hours in duration, delivered bi-weekly. Workshops will be delivered through mixed methodology including tailored content, guest speakers or subject experts, and live Q&A. Spring's Learning Management System will also be available to all participants to access supplemental videos, tools, and resources to reinforce the learnings and progress from the live sessions.
The Impact Investor Challenge attracts impact investors seeking to make investments in purpose-driven entrepreneurs. The Challenge teaches impact investing and measurement, including best practices around investing in uncertain times. The 11-week investor program includes Understanding Returns, How to Select Investment Opportunities, and Deal Mechanics. Ventures join in the investors in week 3 and over the following weeks investors choose 5 ventures to participate in the Pitch for the $100,000 investment.
Who Should Apply for the Challenge?
Healthcare Solution companies in Atlantic Canada looking to raise capital from impact investors.

Healthcare companies looking to access expertise to advance their growth.

Entrepreneurs passionate about making the world a better place and developing solutions to address healthcare transformation in Canada and beyond.
The deadline for applications is 16th June 2023
Applications will be assessed on the following criteria:
Type of Company: (For profit)
Impact (solution has significant measurable positive impact on the heath care sector)
Business Model (economically viable and market size is significant and attainable)
Technology (software, device or innovative service that answers a real problem)
Seed and early stage: (proof-of-concept completed, a prototype demonstration or evidence of initial commercial traction (Technical readiness level 3 to 6).
What is the cost?
The Challenge is sponsored, therefore there is no cost to the entrepreneur to apply and participate in it.
The timeline for the Challenge
The application for the Challenge requires two sets of documents to be submitted.
Your Pitch Deck
A summary of additional relevant business information
A Pitch Deck template can be found below. This template provides you with guidance on the information that is expected in your presentation. Please either use this template to create a Pitch Deck or submit one that you already have created. If you choose to use the template below, ensure that is branded for your business. Note there is guidance on required information.
In addition to the Pitch Deck, please also provide us with the information pertaining to the questions found in the document Atlantic Canada Healthcare Solutions Scale-up & Impact Investment Challenge Additional Information. This document can be downloaded and used in your submission.
We recommend that you submit both documents – the Pitch Deck and the Additional Information – at the same time.
Download Pitch Deck Template Download Application Information